Besides my Asparagus Lemon Pesto, Sweet Pea Pesto is another great type of pesto that my family enjoys. We love its brightened color and sweet creamy taste.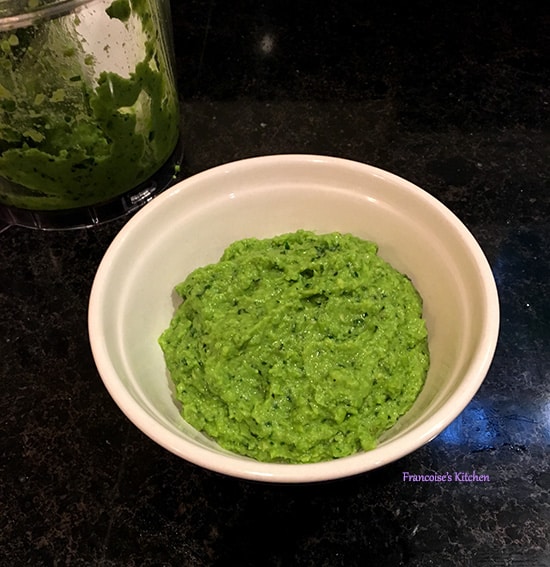 I like to mix this Sweet Pea Pesto with pasta and add pieces of grilled chicken. This pesto is great as a dip or on any grilled bread and perfect with any grilled fish.
Sweet Pea Pesto Pasta
Ingredients
1 ½

cups

frozen sweet peas

1

garlic

2

tablespoon

lemon juice

a few leaves of fresh herbs such as basil, Italian parsley, thyme...

¼

cup

olive oil, or more as desired

salt, pepper

1

lb

of your favorite pasta
Instructions
Bring a large pot of salted water to a boil over high heat and cook the sweet peas until they are tender but not overcooked (3-4 min.).

Put the cooked peas in the food processor.

Add your favorite pasta in the salted water and cook them "al dente" according to the instructions on the package.

In the food processor put the rest of the ingredients: garlic, zest, juice of lemon, the fresh herbs, salt, and pepper. Blend the ingredients until the texture starts to become smooth. Then, gradually add the olive oil. Taste and adjust seasoning.

When the pasta is cooked, drain them well, and put the pasta in the bowl. Add the sweet pea pesto. Mixed well.

Serve the pasta in the plate and add Parmesan or Pecorino Romano.
Save
Save
Save
Save
Save
Save
Save
Save
Save
Save
Save
Save
Save
Save
Save
Save