This post is also available in:
Français
My family enjoys these creamy Shrimp and Veggie Enchiladas with Mexican flavors. They are easy to prepare, and tasty with the right amount of heat. It is a perfect dish for a weeknight.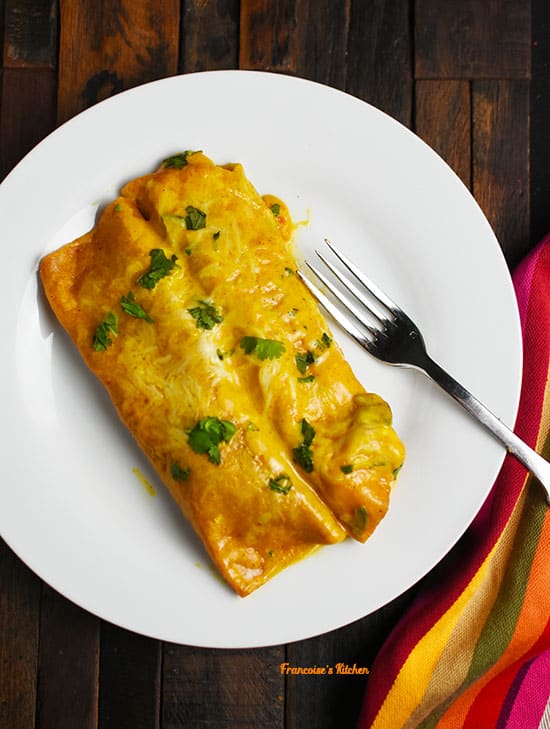 These Shrimp and Veggie Enchiladas are a savory twist to the traditional enchiladas, usually made of tortilla corn, filled with meat, vegetable, doused with a spicy enchilada sauce, and sprinkled with cheese.
To make my enchiladas I like to use a whole wheat tortilla but any substitute of your favorite type of tortilla will work too.
The Jalapeno sauce is creamy but not too heavy. I used some broth to lighten it up, but to give it creaminess and flavor I add some heavy cream, spices, and Jalapenos.
The filling is made of shredded carrot and zucchini but you can use any kind vegetables that you like such as green cabbage, red pepper, bean, corn...
Shrimp and Veggies Enchiladas
Ingredients
8

whole wheat tortilla or corn tortilla

¼

cup

chopped fresh cilantro leaves
To make the sauce:
1.5

tablespoon

butter

1.5

tablespoon

flour

1

cup

chicken or vegetable broth

½

cup

heavy whipping cream or crème fraiche

1-2

jalapeno, completely or partially seeded, and minced

1

teaspoon

cumin

1

teaspoon

paprika

½

teaspoon

garlic powder

salt, pepper, to taste
To make the filling:
1

pound

medium shrimp, peeled and deveined

1

tablespoon

olive oil

salt, pepper

2

cloves

garlic, minced

1

onion, diced

2

medium zucchini, grated

1

carrot, peeled and grated

3

cup

spinach

1 - 2

tablespoon

chipotle pepper, in adobo sauce

½

teaspoon

oregano

1

cup or more

Mexican cheese or Monterey Jack Cheese
Instructions
To make the sauce:
In a medium saucepan, melt the butter. Mix in flour, cooking until lightly golden, 1-2 minutes. Add the broth and whisk continuously until very smooth. Bring to a boil to thicken the sauce. Reduce to low heat and let simmer 5 min (stirring occasionally). Add the cream, cumin, paprika, garlic, salt, and pepper, to taste. Remove from the heat.

To make the filling:
In a large skillet, heat 1 tablespoon olive oil over medium heat. Add onion, garlic and cook until onion is tender 2-3 minutes. Then, add zucchini, carrot, spinach, chipotle pepper, and oregano. Cook the vegetables until slightly soft.

To cook the shrimps:
Season shrimps with salt, and pepper. Heat a pan with 1 tablespoon olive oil, add the shrimp and cook them until pink and just cooked through. Set aside.
To assemble enchiladas:
Preheat oven at 375 F. Lightly oil a 9x13 baking dish. In each tortilla, p

ut ⅓ cup of vegetables, add 3 shrimps on top, sprinkle some cheese, and roll it.

Place them seam side down in the baking dish and top with the jalapeno cream sauce. Add a little cheese on top. Cover the dish with foil.

Place into the oven and bake in the oven about 20 minutes. Sprinkle some fresh cilantro.