This post is also available in:
Français
After a few days on vacation, I am back in my kitchen with this delicious Sheet Pan Roasted Chicken with Summer Squash from Giada De Laurentiis.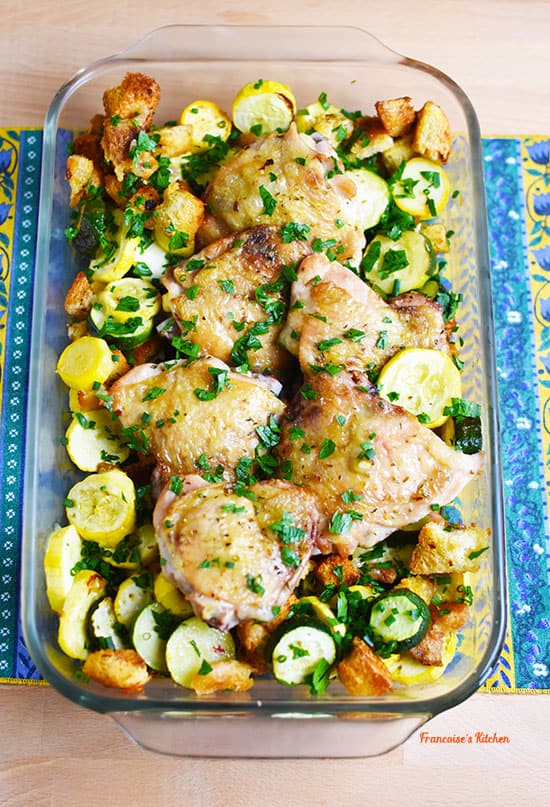 In this recipe, I love the addition of the bread because it absorbs all the flavor of the cooking juices. Squeezing roasted lemons before serving the dish adds brightness.
It is summer on my plate!
Sheet Pan Roasted Chicken with Summer Squash
Ingredients
4

slices

of bread, cut into ½-inch cubes (about 1 cup)

2

tsp 

extra-virgin olive oil

1

tablespoon

freshly grated Parmesan cheese

1

teaspoon

freshly grated lemon zest

¼

teaspoon

red chili flakes

¼

teaspoon

dried oregano

¼

teaspoon

ground black pepper

½

teaspoon

kosher salt, plus ¼ teaspoon

6

chicken thighs

2

small zucchini, sliced into ¼ inch rounds

2

small yellow squash, sliced into ¼ inch rounds

2

lemons, quartered

3

scallions, finely chopped

1

tablespoon

freshly chopped parsley
Instructions
Preheat oven to 450 F.

On a sheet tray, toss the bread cubes with the Parmesan and 1 teaspoon olive oil and spread them.

In a small bowl, mix the lemon zest, chili flakes, oregano, pepper, and ½ teaspoon salt and sprinkle all over the chicken thighs, placing them skin-side down on the sheet tray. Roast the chicken and bread for 15 min.

Remove the tray from the oven and turn the chicken skin-side up. Add the zucchini, squash, and lemon quartered to the tray, sprinkle with ¼ teaspoon of salt, and drizzle with 1 teaspoon olive oil.

Put the tray back into the oven and continue to roast until the chicken reaches an internal temperature of about 160°F, about 15 minutes and the croutons and vegetables are golden.

Transfer the chicken and vegetables to a large platter, squeeze the roasted lemons over everything, and sprinkle with the scallions and parsley. 
Notes
Adapted from Giada De Laurentiis