This post is also available in:
Français
Boeuf Bourguignon (also known as Beef Bourguignon or Beef Burgundy) is a traditional French stew dish Burgundy. The dish's name refers to two famous products from Burgundy's soil: "Charolais" beef (French breed) and the wine of its vineyards.
Originally, this dish called "estouffade de boeuf" (braised beef) was a favorite among peasants on holidays, before becoming a traditional Sunday dish often enjoyed with a slice of garlic toast.
In traditional Boeuf Bourguignon, the meat is marinated for several hours in red wine, ideally Burgundy with vegetables, herbs, and spices to develop the flavors. The cooking is slow, being over low heat for at least 3 hours. The meat is melting soft, the sauce takes on a velvety texture and a beautiful Burgundy color.
Boeuf Bourguignon can take a long time to make, but with the Instant Pot or Pressure Cooker, you can fix this delicious comfort dish in less time, perfect for people in a hurry or for impressing guests.
Boeuf bourguignon is usually served with boiled potatoes, mashed potatoes, pasta, crusty baguette, a slice of garlic toast or even dauphinois gratin (a french potato dish with dairy). However, some non-traditional sides, such as polenta or spaetzle (pasta found in Alsace (NorthEastern in France), and German-speaking countries) work very well! 
Sometimes I like to change it up using different side dishes. One time, I added small honey gold potatoes that I boiled peeled, and browned a little bit in butter, sprinkled with a little parsley. Another, I tried the boiled gnocchi with steam green beans. My family and I really enjoy these different side dish ideas.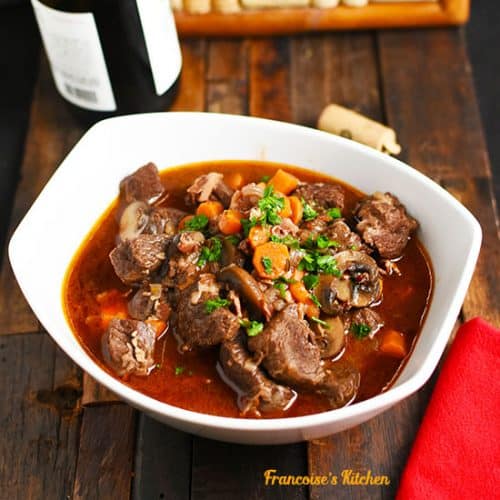 Boeuf Bourguignon in Instant Pot
Ingredients
2

lbs

beef chuck roast, trimmed and cut into 1.5 inches cubes

4

ounces

bacon, cut into strips

2

tablespoon

olive oil 

1

tablespoon

butter

⅔

(500 ml) bottle of red wine (traditionally a Burgundy or Pinot Noir)

1

medium onion, minced

2

garlic cloves, diced

2

tablespoon

flour

1

tablespoon

tomato paste (optional)

1

herb bouquet (spring thyme, bay leaf, parsley)

2 to 3  

medium carrots, sliced

½

lb

mushrooms, sliced or quartered

salt, pepper 

1

pinch

all spices (optional)

Italian parsley
Instructions
On the Instant Pot, press the saute button, and adjust the heat to medium. Put in the olive oil, and butter. When it is hot, add onion, garlic, bacon, and cook until lightly brown. Remove with a slotted spoon and set aside in a bowl.

Sprinkle the meat with flour and cook a little bit while stirring (adjust the heat to low if necessary).

Add the red wine and scrape well any remaining browned bits off the bottom of the instant pot. 

Return the bacon, onion, garlic, add carrots, mushrooms, tomato paste, herb bouquet, all spices, salt, and pepper. Give everything a good stir.

Secure the lid and verify that the pressure valve is closed. Cook for 30 minutes at high pressure.

Naturally release the pressure for 10 minutes, then open the valve to release any remaining pressure.

Remove the herb bouquet from the Instant Pot. With a slotted spoon remove all the meat and vegetables and put them in a big bowl. Keep them warm with a cover.

Optionally, before thickening the sauce in the Instant Pot, you make it very velvety by using a cup fat separator to remove any excess fat.

Press the sauté button on low. Let the sauce thicken a little bit to your liking. Taste the sauce and adjust the seasoning if necessary.

Pour the wine sauce into the bowl. Sprinkle fresh parsley and serve hot with potatoes, mashed potatoes, pasta, or even grilled slices of bread rubbed with garlic.
Notes
Beef Bourguignon is even better when reheated, so you can prepare this recipe the day before.