This post is also available in: Français
If you have at home some ripe bananas with dark spots that no one wants to eat, the best way to use them is to make this delicious classic American Banana Bread which is easy to make, moist and flavorful.
The more the bananas ripen the tastier the Banana Bread is, it does not require as much sugar (*).
Feel free to add nuts, fruits (such as blueberries, cranberries, dry raisins) or chocolate chips if you like. But even without these, this Banana Bread is definitely delicious and flavorful!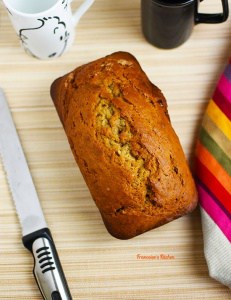 Ingredients
3/4

cup

sugar (*)

1

butter stick (8 tbsp) at room temperature

2

eggs

3

ripe bananas peeled and coarsely mashed

1

tbsp

of plain yogurt 

1

tsp 

vanilla

2

cups

all-purpose flour

1

tsp 

baking powder

1

tsp 

baking soda

1/2

tsp 

salt

1

tsp 

ground cinnamon
Instructions
Preheat the oven to 325 degrees F.

Butter and flour a 9- by 5- by 3-inch loaf pan. Set aside.

In a medium bowl combine flour,  baking powder, baking soda, salt, and cinnamon.

In a large mixing bowl, cream the butter stand mixer with sugar until light and creamy.

Add the eggs one at a time, scraping down the sides of the bowl and beating well after each addition.

Stir in mashed bananas, yogurt, and vanilla, then mix. Add the dried ingredients until well combined, but do not over mix.

Pour the batter into the prepared loaf pan and bake for approximately 1 hour and 10 min. or until a toothpick inserted in the center comes out clean. Before removing the cake from the mold, let it cool for 15 minutes on a wire rack. Wait until it is completely cooled to taste it.
Notes
(*) The bananas being ripe I reduced the amount of sugar from 1 cup to 3/4 cup.