This post is also available in:
Français
This Almond Milk Brioche is light and fluffy. It is not very complicated to make; you just need to have a little time ahead.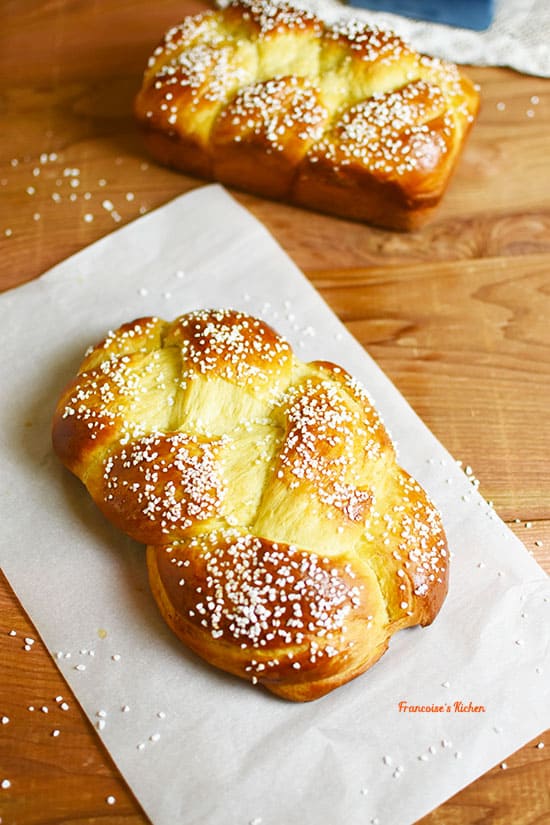 As I told you before, I love brioche and enjoy making it because it always brings me back to childhood memories where my father made us delicious brioche. I really love the smell of brioche spreading all over the house!
It has been too long since I have not made one. With these last days where the temperature has suddenly dropped, it was the perfect opportunity to make it. I can tell you that my boys were happy to have this treat for their snack at home and at school!
This Almond Milk Brioche can be kept a few days well packed or you can freeze one if you want, but in my home, it is gone too quickly!
Almond Milk Brioche
Ingredients
500

g

all-purpose flour

90

g

sugar

1

package dry yeast

1

tsp 

salt

200

ml

lukewarm almond milk

2

eggs + 1 for egg wash

120

g

diced butter (I recommend Plugra) at room temperature 

pearl sugar or sliced almond
Instructions
Before to start the butter and eggs should be taken out of the refrigerator and be at room temperature when incorporated into the dough!

In a stand mixer bowl, add flour, sugar, yeast, salt (be careful to not put salt near yeast!), the 2 eggs lightly beaten, and lukewarm almond milk. Blend well on low speed for 10 minutes until the dough pulls away from the bowl (scrape the bowl if necessary).

Add (in 2 times) the soft, diced butter. Knead until the dough pulls away from the bowl. The dough should be elastic and a little sticky.

Shape the dough into a ball. Put it back in a bowl lightly flour and cover it. Let it rest for 45 minutes in a warm place (I like to put the bowl in a lightly preheated oven to avoid air currents).   

Deflate the dough, cover with plastic wrap, and refrigerate 1 hour 30 to 2 hours or overnight. A long rest period allows the dough to grow well and keeping it cool allows for better shaping. 

Butter and flour two loaf pans measure 8 ½-by-4 ½ inches (I made one brioche in a loaf pan and the other on a baking sheet) or use a baking sheet with parchment paper.

Turn the dough out onto a lightly floured surface. Divide the dough into 6 equal pieces (for 2 small brioches). I use a scale to be sure that all the pieces have the same weight.

Preheat your oven to 360 F. Brush the brioche with an egg beaten, mixed with 1 teaspoon of water (to make smoothing the egg yolk easier). Sprinkle some pearl sugar all over the dough.